Giving Back
Habitat charity houses two more families (Toronto Star)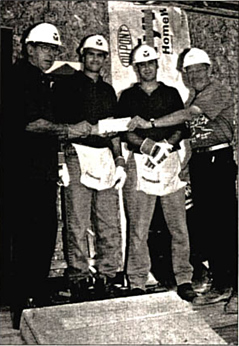 Two families will be receiving something special at a dedication ceremony this afternoon: the key to their new homes, built by the local chapter of Habitat for Humanity Inc. About 25 volunteers per day were busy working this week on the homes, which are located in Pickering.
A building blitz that started earlier this month finished up the outside work last weekend. During the week, workers were expected to take care of interior details including sanding, painting, kitchen cabinets and carpeting. Landscaping was al- so to begin this week, according to Mareo Maina, the executive director of the Toronto chapter of Habitat for Humanity.
The homes, for the Boland family, who have four children and the Mott-Temple family, which includes an extended family of four adults and one child, are about 1,400 square feet each. That's larger than the average Habitat-built home, which usually starts at about 800 feet.
Those working on the building blitz included Verdiroc Development Corp., which shut down its office one day this month so that its 20 employees could assist with insulation, waterproofing wrap and roofing. Company president Kevin Green also presented a cash donation.
The Boland family is expecting to move in this Monday, with the help of AMJ Campbell Van Lines, which has donated its services to both families. The Mott-Temple family will move in on Tuesday.
Habitat for Humanity offers low-income, working families the chance to own their own home in return for a down payment of 500 volunteer hours of "sweat equity."
For more information on the not-for-profit, non-government, charitable organization, call (416)Â 510-2223, E-mail habitat@yesic.com or visit www.torotohabitat.on.ca
(In the picture – Helping Hand: Metropolitan Toronto Habitat for Humanity chairman Nicholas Vork, far right, receives a donation from Verdiroc Development Corp. executives (from left) Harold Green, Kevin Green and Gary Green at site of Pickering homes. )