Urban Development
Verdiroc is presenting a new vision for downtown Moncton, New Brunswick.
We are proud to be contributing to the fastest-growing economy in Atlantic Canada. With an eight acre parcel of land which was the former lumberyard in the middle of Moncton's downtown, Verdiroc has already developed a 55,000 sq. ft. Rogers Communication call centre that is providing 700 new jobs in the area. Verdiroc's proposal, of more than $100 million worth of building projects includes a convention centre, a hotel, office space, an entertainment and parking facilty, an aquatic centre, a casino and a courthouse.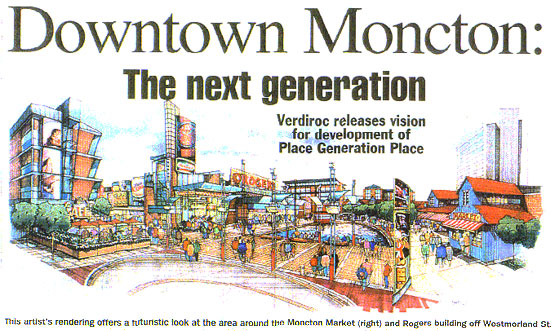 Mapleton Centre
Main Intersection: Wheeler Boulevard & Mapleton Road
Status: Under Construction
Total GLA: Approx. 280,000 sf
Units Available: Starting from 1,200 sf
An excellent leasing opportunity in a premier location in New Brunswick.
The property is a new retail project consisting of +/- 280,000 square feet located in a concentration of similar use properties at the intersection of Wheeler Boulevard and Mapleton Road in Moncton, New Brunswick.